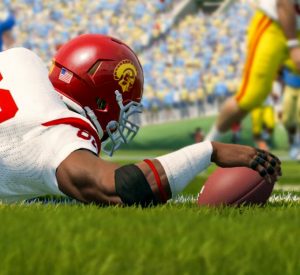 After teasing the release of a new college football video game last February, EA Sports has reportedly targeted a July 2023 release date for the reboot of the franchise.
According to a Jan. 2021 proposal, EA Sports along with the Collegiate Licensing Corporation informed schools they intend to release a college football game sometime in July 2023. CLC management later sent a follow-up proposal to multiple D-I schools in February of this year with an update confirming "game development is in full swing" and the "launch goal is still summer of 2023."
While nothing released includes a specific date, EA Sports noted in last year's proposal the target timeframe will allow for the "two-year game development window necessary for collecting game assets and developing game play to meet the current market demands for a unique college football game while following NCAA guidelines."
The report also includes an update in regard to compensating players for the use of their likeness, the issue that led to the lawsuit that stopped production of NCAA Football in 2013. With the NCAA no longer allowed to govern student-athlete compensation, there's hope that EA Sports will be able to use the players in the game, and would still launch the title if they are unable to use likenesses.
Thank you for reading!