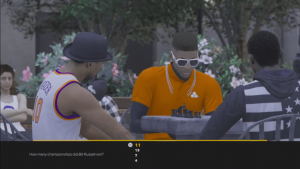 As NBA 2K23 players progress through the story mode they will run into Herschel and Edgar. At one point gamers must answer a series of trivia questions about all things NBA. These are the NBA 2K23 Classic Quest answers and questions.
Classic Quest Trivia
To unlock the Classic quest, players have to play through the story and  unlock the mission. Once gamers reach a certain point they will meet up with Herchel and Edgar, who will be playing chess. At that point a scene will be unlocked where MP will begin to sit with Edgar and Herschel. Herchel and Edgar will then test your knowledge of the NBA with trivia questions. The answers to the NBA 2K23 Classic Quest Trivia are as follows:
How many championships did Bill Russel win?
Answer #1: 11.
Which team has lost the most NBA Championships?
Answer #2: Lakers.
Which player was taken number one overall in the 1998 NBA Draft?
Answer #3: Michael Olowokandi.
Answering the questions correctly will result in you receiving MVP Points, VC, and you will be one step closer to completing the quest as a whole. To even unlock the opportunity for players to meet Edgar and Herschel, players will need to have domination over the three districts. The Fashion District, the Business District, and the Music District.
Thank you for reading!