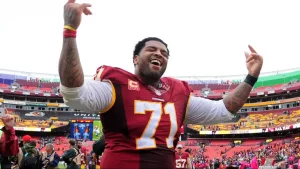 Madden 23's released its first 99 Club member, and 49ers OT Trent Williams is the man.
Williams was revealed as the first 99-rated player in Madden 23 on Twitter via Adrian Peterson, who welcomed him to the club.
The San Francisco 49ers Offensive Tackle is the first-ever Offensive lineman in Madden history to be added to the exclusive club.
Madden 23 99 Club
Last year Patrick Mahomes, Jalen Ramsey, Travis Kelce, Aaron Donald, and Davante Adams made the cut.
Mahomes should be back in the club this year, Kelce may miss out.
Rams pair Cooper Kupp and Aaron Donald seem like a good bet to be on the club this year, having dominated last season.
Steelers LB TJ Watt and Browns' DE Myles Garrett are also rumored to be joining list in Madden 23.
Thank you for reading!