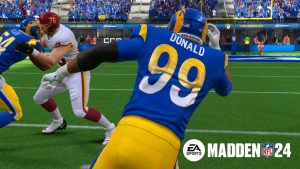 On June 8 EA Sports revealed the first trailer for Madden 24 along with this year's cover athlete, Buffalo Bills quarterback Josh Allen. We were fortunate enough to get our hands on a beta code and have been checking this years installment out.
There's still a lot EA has promised to add to the beta, but here are our early impressions on franchise mode and the return of mini-games.
Franchise Mode
One of the most critical game modes for any sports video game is its franchise mode. If you've been following Madden for the last few years, you know that Franchise Mode has arguably been one of the titles biggest disappointments for the series.
One of the most frustrating things, but not a deal breaker, is the lack of customization options for coaches and players. For decades, there have been the same generic faces for coaches and created players. Madden 24 doesn't seem much different. With how powerful systems are nowadays, there's no reason why Madden can't implement face scans for one of its most popular game modes. A minor change like this would make being a coach or GM even more rewarding.
The layout of Connected Franchise is similar to last season. It essentially looks copy and paste.
More options are now available if you're into trading and improving your team. There are now six trade slots instead of three, and teams can trade draft picks up to three years down the road. It also appears that the trade logic has improved, computer teams seem much more eager to send trade offers. For example, I started my franchise as the Miami Dolphins and had trade offers from three teams for veteran defensive end Malik Reed. Each trade is similar but adds some depth to the experience.
Weekly strategies are back and that also looks to be essentially copy and paste.
EA has added a ton of new locations and team names for gamers to choose from. Each place has a unique market size and personality that could sway owners on where to relocate to. A ranking system also shows your fan interest in that area. In addition to the laundry list of new locations, EA has added several new team names to this year's game.
Other changes to franchise mode include contract restructures and a feature that fans have been asking for over the last few years, the ability for all players, not just quarterbacks, to have up to four X-Factor abilities. The NFL Draft still feels underwhelming, but EA promises that draft classes will be more dynamic, with many superstar players drafted out of college. Some may even debut with key stats maxed out. Besides more superstar-quality talent, EA has promised that some players may need to switch positions to maximize their potential. For example, taking a quarterback and moving them to wide receiver could unlock an entirely different set of skills.
Mini Games Are Back!
Mini-games like rushing and passing attacks were part of the reason a lot of us loved the series in the first place.
The good news for those of us who feel that way is that EA not only brought back a bunch of the classics, but have added a bunch of new options that are sure to make some people very happy. This year, there are 14 mini-games ranging from the classic rushing attack to WR/DB battles and everything in between.
More to come!
Thank you for reading!