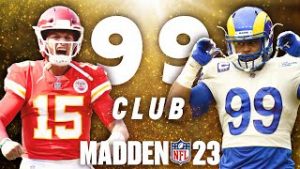 There will reportedly be six players to start the season in the Madden 23 99 Club. These six players are Patrick Mahomes, Davante Adams, Cooper Kupp, Aaron Donald, Myles Garrett and TJ Watt.
At the start of last season, there were five members in Madden 22's 99 Club: Aaron Donald, Davante Adams, Jalen Ramsey, Patrick Mahomes and Travis Kelce. By the Super Bowl update, there were six and the club had a different look with Aaron Donald, Davante Adams, Jalen Ramsey, Myles Garrett, Tom Brady and Travis Kelsey making the cut.
Patrick Mahomes had a down year, relative to his high standards, but that didn't keep EA from including him in the Madden 23 99 Club. The most notable player to drop out of the club is Tom Brady, who at 44 years old put together the best statistical seasons of his career.
We knew from the position leaks that Adams and Kupp would be in the 99 Club, no surprises there, but it will be interesting to see if they can match their production. Adams goes from the Packers to the Raiders and Kupp would have to complete the best two season stretch in wide receiver history to match his output from last year.
On the defensive side we can all agree Aaron Donald deserves his spot, and Myles Garrett did nothing to get hit with a downgrade. The newest addition TJ Watt, arguably should have been a part of the club last year.
Details regarding Madden 23 are piling up recently. Stay tuned for more.
Thank you for reading!