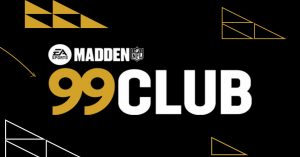 In last year's edition of Madden, just four players received the 99 overall rating from EA Sports: 49ers offensive tackle Trent Williams, Raiders wide receiver Davante Adams, Browns EDGE Myles Garrett and Rams defensive tackle Aaron Donald. Will more players rate a 99 this season?
The first player to be announced as a 99 overall player was Vikings receiver Justin Jefferson. Jefferson in 2022 led the NFL with 128 receptions and 1,809 receiving yards while adding eight receiving touchdowns.
It was Jefferson's first selection to the 99 Club, probably not the last.
Who's Else in the 99 Club So Far?
Aaron Donald, DT, Rams
Donald was unveiled as the second member of the 99 Club on "Madden 24" on Tuesday, marking his seventh straight year in the 99 Club and giving him the most all time, surpassing Peyton Manning. It's unsurprising, considering Donald earned Pro Bowl status in 2022 even amid a "down year" for one of the all-time great defenders in NFL history.
Donald in 2022 missed six games, marking a career high for him in his nine-year NFL career. While he was still a force on the interior, he also experienced career-lows in sacks (five) and quarterback hits (11). That clearly wasn't enough to sway EA from giving him one of the top ratings this year.
Zack Martin, G, Cowboys
Six-time first-team All-Pro selection Zack Martin became the third member of the 99 Club on Wednesday, as announced on ESPN's "Get Up!"
Martin is now the first offensive guard to join the club since another former Cowboy in Larry Allen (2003).
Travis Kelce, TE, Chiefs
Kelce became the fourth member of the 99 Club on Thursday, as revealed by ESPN's "Get Up!" It is is his fourth time receiving a 99 rating, most all time among tight ends in the Madden franchise.
Kelce in 2022 earned his fourth first-team All-Pro nod, setting career highs in receptions (110) and touchdowns (12). He also had 1,338 receiving yards, the second-most of his career.
Patrick Mahomes is sure to join the club when Quarterback rankings are revealed July 21st, but will anyone else?
Thank you for reading!