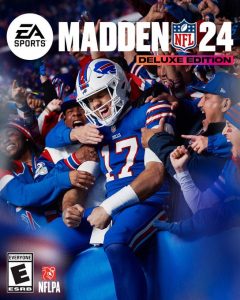 As we speculated last week, Josh Allen is your Madden NFL 24 cover athlete. EA Sports announced the move on Wednesday. This is the 35th anniversary of the franchise.
"It's such a small group of people who have ever been the face of Madden, so now to be on that list, it's very surreal. It's very humbling," Allen told ESPN. "To think about where I was not too long ago and coming out of high school with zero offers, going to junior college and have one offer, University of Wyoming of all places, and then fast-forward to now.
"I don't know if I would have believed you at that point, if you were to tell me in high school. It's so surreal. Madden has such a special place in my heart."
Allen has over 40 combined touchdowns (passing and rushing) in three consecutive seasons, and has passed for 18,397 yards in his first five years in the league. The Bills are 52-24 when Allen starts.
In addition to Allen being the first Bills player featured, this is the first time fans are featured prominently.
Last season, Tom Brady and Patrick Mahomes graced the cover. In 2021, it was Lamar Jackson. Mahomes was on the front of "Madden 20," Antonio Brown on "Madden 19," and Brady was on "Madden 18."
"Madden NFL 24" is set to be released worldwide on Aug. 18.
Thank you for reading!