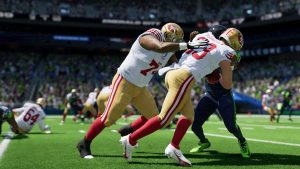 EA Sports has released a new Madden NFL 24 update, fixing the kicking UI covering the kick meter that has come up.
The developer notes also mention they are working on the dropped passes and interceptions on the competitive game setting. It sounds like a fix for the issue is coming in a future title update.
Without further ado, let us take a look at Title Update 3.1 to check out everything new with Madden 24.
Madden 24 Title Update 3.1 Full Patch Notes
Gameplay

Addressed an issue where the Kicking UI blocked visibility of the Kick Meter.

Dev Note

The team is continuing to actively work on unintended dropped catches & interceptions while playing on the Competitive game setting with improvements coming in a future Title Update.

Superstar KO

Addressed key issues with Superstar KO and as a result the mode has been ungated.
Very underwhelming update.
Hopefully we don't have to deal with the kicking bug anymore. Sounds like we have to wait and hope to see a resolution on dropped passes.
Thank you for reading!