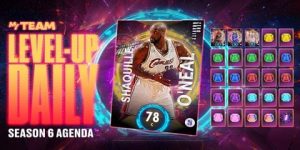 Season 6: Zero Gravity's newest adds a legend to the player pool.
Players putting time into the Agenda challenges can obtain one new unit each day and use them in a challenge for a chance to grab the next unit on the following day. NBA 2K22 Season 6 releases units ranked from Gold tier up to one Dark Matter unit, which can be obtained on the last day of the event.
Shaq joins the roster of players obtainable through the Season 6 challenges. He is represented as a center for the Cleveland Cavaliers and can be obtained for free following a challenge using the previously released Grant Williams unit.
NBA 2K22 is also releasing a new pack series called "Fan Favorites" that will feature three new items. A Galaxy Opal Jonathan Isaac (98-overall), Dark Matter Kristaps Porzingis (99-overall), and Dark Matter Kevin Durant (99-overall) are the players involved. For Durant, it marks the second time this month that he's been featured in a release, with his player card receiving a boost earlier in the month.
Thank you for reading!