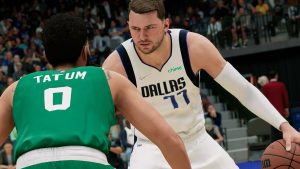 Players have been clamoring for the next generation upgrades from the PlayStation 5 and Xbox Series X/S versions of NBA 2K to be added to PC the past few years.
Despite the consumer push, it looks like NBA 2K23's PC version wont be getting the upgrade.
According to the FAQs section of the 2K Games website, the PC and Nintendo Switch versions of the next NBA 2K game won't receive the graphical and technical upgrades that the game's next-gen console versions will have.
"For now, the focus was on making sure NBA 2K23 was optimized for the new consoles, while also making sure the experience remains fresh and innovative for players on other platforms" a 2K rep stated.
This will obviously be a disappointment to PC fans of the NBA 2K series, as the developers continue to largely ignore that version of the game.
Thank you for reading!