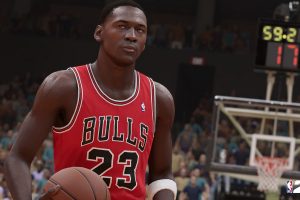 We don't have an official release date yet, but here's what we know right now about NBA 2K23 based on history, rumors and confirmed information.
We don't have a lot in the way of confirmed NBA 2K23 news but we expect to learn a lot more in the coming weeks.
Here's what we have as far as what you can expect from NBA 2K23's features, release date, editions, demo, and more.
NBA 2K23 Launch Date
2K says pre-orders will kick off on July 7th and we'll see a flurry of details confirmed right before or on that date.
The initial NBA 2K announcements are typically light on details so don't expect 2K Games and Visual Concepts to show much of the game in the early going.
NBA 2K23 Release Date
We don't have an official NBA 2K23 release date yet. You can expect the NBA 2K23 release date to land sometime in September ahead of Black Friday and the 2022 holiday season.
One leak suggests the NBA 2K23 release date will be September 16th.
We didn't see any early access last year so there may not be a way to play NBA 2K23 ahead of its official release date. In the past, 2K Games has offered an early access date to those who bought deluxe versions of the game.
NBA 2K23 Consoles
NBA 2K23 will release for current-generation platforms including PS5, Xbox Series X, Xbox Series S, PC, and Nintendo Switch.
You can also expect a release on Xbox One and PS4.
NBA 2K23 Cover
NBA 2K23 will feature four athletes on the cover.
Devin Booker will be one of the NBA 2K23 cover athletes. He'll  appear on the standard version of the game.
2K has also confirmed that Michael Jordan will appear on the covers of two deluxe editions, with Sue Bird and Diana Taurasi featuring on the game's WNBA edition.
NBA 2K23 Editions
2K's confirmed two NBA 2K23 editions: a Michael Jordan edition and a Championship edition. The rest of the editions should get confirmed soon.
The bundles typically come with Virtual Currency (VC), MyTEAM bonuses, and cosmetic items for the game's popular MyPLAYER mode.
The standard edition will retail for $59.99 for older platforms and $69.99 for newer consoles.
NBA 2K23 Pre-Orders
Again, NBA 2K23 pre-orders will start on July 7th.
2K will provide pre-order bonuses to entice buyers. Here were the pre-order bonuses if you pre-ordered a copy of the standard edition of NBA 2K22 for console or Windows PC:
5,000 Virtual Currency
5,000 MyTEAM Points
10 MyTEAM Promo Packs (delivered one a week)
A Boost for each MyCAREER Skill type
A Boost for each Gatorade Boost type
Luka Dončić MyPLAYER Jersey
95 Rated Luka Dončić MyTEAM Free Agent Card
While we should not assume the pre-order bonuses will be the exact same, we can expect them to be close.
NBA 2K23 Features
Right now, we know almost nothing about the game. We can expect numerous improvements and changes with a particular focus on current-generation platforms (Xbox Series X, Xbox Series S, PS5), but as of now little to nothing has been confirmed.
NBA 2K23 Demo
After many years of providing a demo, the company declined to offer an NBA 2K22 demo. It's unclear if NBA 2K23 will suffer the same fate.
NBA 2K23 Microtransactions
We expect to see Virtual Currency (VC) return in NBA 2K23.
NBA 2K23 PC Requirements
If you plan to play NBA 2K23 on a Windows PC, you'll need to take note of the game's minimum and recommended spec requirements.
Unfortunately, those details won't arrive until we get much closer to the official release so unless you are sure your PC can handle running the game we suggest you hold off on a pre-order.
Thank you for reading!