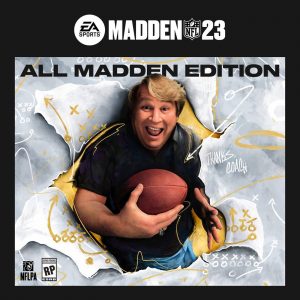 The Madden 23 cover will be a recreation from the first iteration of the game, featuring John Madden himself.
As we previously speculated, the cover star of Madden NFL 23 is the late coach and commentator, John Madden. The hall of famer will appear on all three editions of the game.
A fitting tribute to the recently passed legend, the cover art for this year's digital edition will also pay homage to the original John Madden Football game released in 1988.
While Madden appeared on every cover throughout the '90s his last appearance was in 2000. In 2001 the franchise switched to spotlighting NFL athletes on the cover.
The digital recreation of the cover was made by sports artist Chuck Styles, while the standard and MVP edition will see Madden depicted separately as a broadcaster and a coach.
EA is also renaming a renovated football field at its headquarters as "John Madden Field" in a ceremony with CEO Andrew Wilson and members of Madden's family.
Thank you for reading!