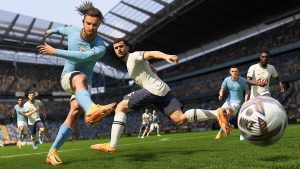 EA has revealed that FIFA 23 will be available September 30th, will feature same-generation cross-play, a World Cup DLC, and more.
Revealed on the official website, EA's final FIFA game will be cross-play at launch for the first time, although there is a catch. Players can only play together between the same generation of consoles, meaning those on PlayStation 4 can only play against those on the same platform or on Xbox One. PC players will be in the same pool as players on PlayStation 5 and Xbox Series X/S.
Friends can also only play against each other in online friendlies and FIFA Ultimate Team's Play a Friend mode. All other modes – FUT Online Friendlies, Online Seasons, FUT Rivals, FUT Champions, and FUT Online Draft – can only be played cross-play through online matchmaking. Players will be able to opt-out of cross-play altogether if they chose to do so.
EA has also announced that free DLC will be released at some point after the initial release, bringing both the Qatar 2022 FIFA World Cup and FIFA Women's World Cup Australia and New Zealand 2023 into the game. No release window was given for the DLC.
FIFA 23 has promised to bring more realism and control through its new HyperMotion 2 technology which includes 6,000 unique animations to make players move more authentically than ever before.
Further reveals will be made in the lead-up to the game's September release date, with EA promising new information on gameplay features on July 27, Career Mode on August 1, Matchday Experience on August 5, Pro Clubs and Volta on August 8, and FIFA Ultimate Team on August 11.
Here's a look at FIFA 23's first trailer.
Thank you for reading!