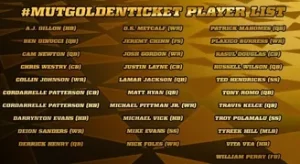 The first Golden Ticket release of MUT 22 has dropped, and EA has revealed the full community-created Golden Ticket list. The first drop included 2 community Golden Tickets and 4 NFL Player Golden Tickets. The NFL Players have the option to choose themselves or any other player in MUT which creates an interesting dynamic.
Golden Tickets can equip any team chemistry for teams they played at least one snap for during a regular-season or Playoff game since they are not Power Up eligible. Most importantly, Golden Tickets get custom Ability Buckets, allowing them to equip different Abilities at a lower AP cost than would normally be allowed.
For more details on how this year's Golden Ticket Program worked, Click Here.
Golden Ticket Players

Offense
Defense
Thank you for reading!