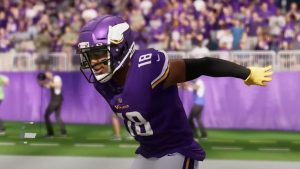 Madden NFL 23 is free today, allowing you to mix in some Madden football on the first Sunday of NFL football.
For decades, the series has had an annual release a few weeks before the start of the NFL regular season. Madden is currently the only console football simulator, with the College Football delayed until 2023. Madden varies in quality year to year, but it is the only way to get your modern football gaming fill these days.
EA has announced that players will be able to play Madden NFL 23 for free via a trial Sunday September 11th on Xbox One, Xbox Series X|S, PS4, and PS5. This trial will allow players to get their hands on everything the game offers and see how they like it. EA is piggybacking the promotion with another, by selling Madden NFL 23's All-Madden edition at a 25% discount, making it $74.99 plus tax.
It seems like now's the best time to jump into the game. The player feedback makes this one of the best Madden entries in years: "There's nothing revolutionary about Madden NFL 23, but it's a lot more enjoyable than Madden entries of the last few years."
Thank you for reading!