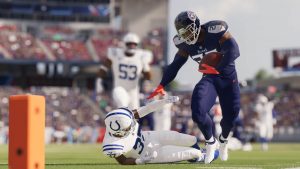 If you don't have a solid defense to stop anyone, it won't matter how many points you can put up on offense.
We're here to offer up our picks for the best defensive playbooks in Madden 23.
Best Defensive Playbooks in Madden 23
Most playbooks have the same base coverage's. However, some stand out from the rest due to having a specific coverage or more plays from a single formation.
Kansas City Chiefs
The Chiefs playbook boast the 33 defense from the Nickel package, which is arguably the best defense in the early going. The Chiefs also have Even 61 in the 43 package, Dime Normal, Big Nickel, all usable packages. Dime Normal has the DB Blitz 1, which has been terrorizing offenses so far due to how fast defenders can get to the quarterback.
46
A playbook like 46 is in contention for the top playbook available. The playbook has slightly changed from previous years, but it still has meta formations like 33 Nickel, Big Nickel, and 33 Cub Nickel. Dime Normal is a part of this playbook, as is 32 Dollar. Dollar has a bunch of formations that are good against the run and pass.
Multiple D
Multiple D is always a favorite among Madden players, especially those who play MUT. This defensive playbook features most of the formations that one would expect to see. The Nickel formations are once again at the forefront, as well as Dime Normal and Dollar. The 34 defenses haven't been the best this year, but Multiple D has a large array of 34 formations that players can try and make use of.
Tampa Bay Buccaneers/Jacksonville Jaguars
The Tampa Bay Bucs playbook owns a spot on the list this year. The Bucs have a unique defensive playbook, as the Nickel formations are different from what we've seen before. The Bucs playbook has 33 Cub, as well as 245 Odd and 24 Double A-Gap, which have great blitz packages. Tampa Bay's book has 34 Bear and 44 Split available as well. Jacksonville has this exact same playbook.
Chicago Bears
The Bears have the 46 Bear, which is one of the most multidimensional defensive formations in the game. Even 61 in 43, Big Nickel, and a Dollar package called 32 Mug round out some of the better packages in the book.
Baltimore Ravens
Baltimore comes equipped with 33 Cub and Odd as well as 24 Double A-Gap. 1-4-6 is arguably the best formation out of the Dime, with loads of blitz packages and then there's 2-3-6, which sets up well to slow down mobile quarterbacks.
Thank you for reading!