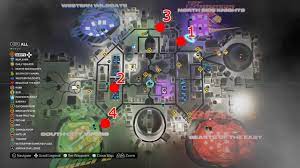 Want to know how to unlock Rebirth in NBA 2K23? We've got you.
Making its series debut in NBA 2K19, the Rebirth system is back in both the Current and Next Gen versions of NBA 2K23 MyCAREER. For those looking to get a head start on creating the build they want, here's the breakdown of how to unlock Rebirth save files.
How to Unlock Rebirth in NBA 2K23: Current and Next Gen
To unlock the ability to use Rebirth save files, players on both Current and Next must complete the "Rebirth" quest.
For those on Current Gen, the process is simple. Once you hop into the G.O.A.T. Boat for the first time, players will receive a message from Ronnie2K about hitting 90 overall.
At that point, players will given the Rebirth quest, in which all they need to is hit 90 OVR to unlock the feature.
How to Unlock All Ronnie2K Locations
For those on Next Gen, the process is more difficult, but does come with some additional rewards along the way.
After finishing the NBA Summer League game, players will receive a bunch of intro quests, including the Rebirth quest.
The Rebirth quest on Next Gen still requires players to speak with Ronnie2K, but on four separate occasions.
To get the quest started, refer to the map at the top of the article.
Each time players go through a cutscene with the community manager, they'll receive the next step in the quest, which is to simply meet the OVR milestones.
Reach 65 OVR: Unlocks Ronnie2K & Sophie T-Shirt
Reach 75 OVR: Unlocks Custom Spawn Locations
Reach 88 OVR: Unlocks the ability to go Shirtless
Reach 90 OVR: Unlocks Rebirth
What is Rebirth in NBA 2K23?
Rebirth saves, which are unlimited, will start players off with all previously earned gameplay-related quest prizes carried over, up to 25 Badge points already earned and the opportunity to upgrade to a 90 OVR.
Although Rebirth builds technically do have a head start in Badges and Attribute upgrade progress, players will still have to spend upwards of 200,000 VC to actually get their builds maxed out.
Thank you for reading!