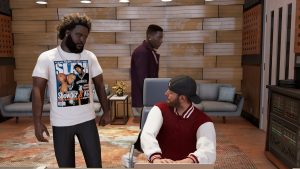 Rejoice!, we are finally rid of grinding out tutorial-level games to start MyCareer.
In NBA 2k23's MyCareer mode you get drafted directly to the NBA, to a team of your choice, then immediately begin your pro career.
"Everyone in The City, all the pundits, everyone wanted your team to draft this player named Shep. Shep Owens," executive producer Erick Boenisch commented in a recent interview. "So instantly, you get on stage, Adam Silver's shakes your hand and the entire audience is booing. They don't like you right from the jump."
"They wanted Shep; Shep is the college star, he's the flashy guy, he's the athletic guy, he's the charismatic guy," Boenisch continued. "And you'll find that as soon as you go out into The City, the people of The City wanted Shep, too."
There will be Shep murals on the walls of The City's buildings; people will be wearing Shep's clothing labels, too. "So, the major part of the narrative this year is overcoming that adversity of how everyone reacts to you, and winning over the citizens of The City," Boenisch said.
Boenisch stated that players will have several main and side-quest channels to win over the public.
"There's a new business section you can focus on; you can do all of them, you can do none of them," Boenisch said.
"This is hands down our biggest MyCareer story that we've ever done in the past; it's insanely large," Boenisch vowed. "We had a different actor in mo-cap every day for, like, six months. It's crazy." Celebrity cameos this year include J. Cole, along with his Dreamville Records label. Additionally, Hall-of-Famer Kevin Garnett and seven-time all-star Tracy McGrady show up to mentor the player, representing different professional paths the player can choose. Kendrick Perkins' player-hating ball returns, with ESPN's J.J. Redick and cover star Devin Booker involved as analysts.
Sounds like players will have a lot to look forward to in NBA 2K23 MyCareer.
Thank you for reading!