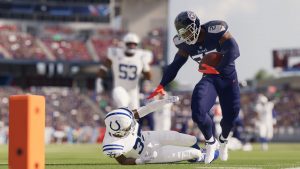 EA has just put out a new update for Madden23, and we have the complete list of changes and fixes added with the patch.
Update 1.14 includes Ring of Honor 2023 content. Players can expect five of the greatest players to ever grace a football field to be inducted into the Madden NFL Ring of Honor!
Here's the announcement by EA Sports about today's title update.
As for the inductees, check out the list below courtesy of EA (via the Madden Ultimate Team Twitter account):
Inductee: Tony Gonzalez
Supporting Cast:
‣ Priest Holmes
‣ Will Shields
‣ Dante Hall
‣ Willie Roaf
‣ Trent Green
Inductee: Deion Sanders
Supporting Cast:
‣ Jerry Rice
‣ Darren Woodson
‣ Rickey Jackson
‣ Chris Hinton
‣ Merton Hanks
Inductee: Barry Sanders
Supporting Cast:
‣ Herman Moore
‣ Kevin Glover
‣ Robert Porcher
‣ Stephen Boyd
‣ Larry Tharpe
Inductee: Lawrence "LT" Taylor
Supporting Cast:
‣ Carl Banks
‣ Perry Williams
‣ Terry Kinard
‣ Mark Bavaro
‣ Joe Morris
Inductee: Randy Moss
Supporting Cast:
‣ Randall Cunningham
‣ Asante Samuel
‣ Vince Wilfork
‣ Thaddeus Moss
‣ Gary Anderson
If there are any gameplay changes and patch notes released, we'll update the article to reflect it.
Thank you for reading!