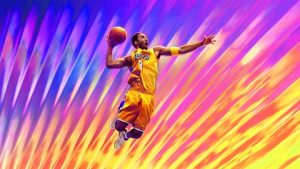 2K Sports officially announced NBA 2K24 earlier this month but didn't reveal much outside of the cover athlete and pre-order bonuses. As of now, the only thing we really know about the game is that it will support crossplay on next-gen consoles and is using the Jordan Moments concept to make a Kobe Bryant-centric mode. Beyond that, we've only gotten hints at gameplay improvement with ProPlay and other small teases. Fortunately for NBA 2K24 fans, that's going to change soon as 2K Sports announced its reveal roadmap for August and September which will take us up to the game's release on September 8.
The current roadmap for NBA 2K24 reveals kicks off on August 14. That's when 2K will give the first real look at gameplay, including the new ProPlay technology. We don't know much about what this is at this point, but 2K did call it "a groundbreaking new technology that directly translates NBA footage into gameplay and delivers animations and movements via on-court NBA action for a generational leap in authenticity on PS5 and Xbox [Series] X/S." That sounds…pretty great.
The next week, on August 21, we'll learn more about the game modes. 2K Sports will be talking about The W (the WNBA mode), MyNBA, and Mamba Moments. MyNBA is similar to Franchise mode in other sports, but last year 2K introduced a feature that would let you jump a save back to specific Eras to redo older seasons in the NBA. On August 28, we'll get a look at MyCareer, The City, and MyTeam, the competitive modes that generally drive sales of the 2K series. We haven't gotten any real teases about these modes, so it'll be cool to get a first look.
Last up, we'll get the reveal of NBA 2K24's Season 1 on September 4. With the game launching later that week, it'll serve as the kick-off for the final week of hype. It's likely that 2K will do what it always does and start revealing giveaways for copies of the game, Virtual Currency to use in MyCareer and MyTeam, and even a few real-world pieces of NBA memorabilia.
Upward and Onward!
Thank you for reading!