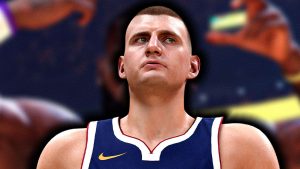 NBA 2K24 is set to launch on September 8 on PlayStation, Xbox, and PC consoles. So far, 2K has not given us much, revealing very few details since announcing that Kobe Bryant is this year's cover athlete. That's starting to change, as the first big info dump is coming August 14. The team at 2K did give us a little something, releasing the ratings for the top players in the league.
Last week, we learned a few of the top rookie ratings. This week we learned who the top players in the entire game are. The list gets started with reigning NBA Champion Nikola Jokic of the Denver Nuggets, who is actually rated two points better than any other player in 2K. Here's the full list of the top 12 players in NBA 2K24:
Denver Nuggets center Nikola Jokić: 98 OVR
Milwaukee Bucks forward Giannis Antetokunpo: 96 OVR
Los Angeles Lakers forward LeBron James: 96 OVR
Philadelphia 76ers center Joel Embiid: 96 OVR
Phoenix Suns forward Kevin Durant: 96 OVR
Golden State Warriors guard Stephen Curry: 96 OVR
Dallas Mavericks guard Luka Doncic: 95 OVR
Boston Celtics forward Jayson Tatum: 95 OVR
Miami Heat forward Jimmy Butler: 95 OVR
Los Angeles Clippers forward Kawhi Leonard: 94 OVR
Phoenix Suns guard Devin Booker: 94 OVR
Portland Trailblazers guard Damian Lillard: 94 OVR
NBA 2K24 launches on September 8 for PlayStation, Xbox, and PC platforms. As mentioned, we'll get our first look at gameplay on August 14, and 2K will follow that up with a deep dive into The W, MyNBA, and Mamba Moments on August 21. Then, we'll get a look at MyCareer, The City, and MyTeam on August 28 before 2K reveals the contents of Season 1 on September 4.
Thank you for reading!