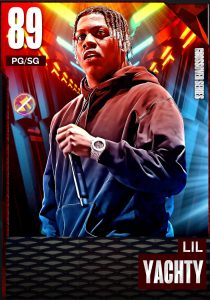 Lil Yachty is joining a line of rappers before him who received the honor of becoming a playable character by getting his very own Lil Yachty MyTEAM card.
NBA 2k and Yachty unveiled the card details on Thursday, which will be available in the game's MyTEAM mode.
"A dream I couldn't live out in real life is finally happening.. I'm hoopin .. I told dem I play like @shai … no kiippp lol," the 25-year-old wrote on Instagram.
J. Cole, Polo G, Lil Durk, Lil Wayne and Jack Harlow became playable characters in the MyTeam Crossover series earlier this year, all given 89 ratings.
"I think it's sick. I mean, obviously, I'm still flexing, but… I think it's great if I could share this greatness with the world because it's too much greatness," the Georgia native said when asked what getting his own MyTEAM card would mean to him.
Yachty's character shares his iconic beaded braids as he sports Travis Scott Air Jordan 1s and wears the number 21.
Fans will be able to earn Lil Yachty's 89 overall player card for a limited time by completing his Spotlight Challenge.
Thank you for reading!