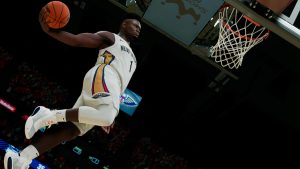 There's a new update for NBA 2K23, and we have the complete list of changes and fixes added with the patch. The latest update is pretty extensive and increases the gameplay experience thanks to bug fixes, improvements, and adjustments.
Here are the 1.10 Patch notes.
GENERAL
Addressed an issue that could cause an outdated hairstyle to appear when editing a player in the Create Roster menu
The shoulder stripe honoring play-by-play announcer Bill Schonely has been added to the Portland Trail Blazers uniforms
The Bill Russell "6" logo has been added to the City court floors for the Washington Wizards and Cleveland Cavaliers
Corrected some visual issues with the City court floors for the Houston Rockets and Toronto Raptors, and classic court floors for the Utah Jazz, Detroit Pistons, and Golden State Warriors
The following players have had general likeness updates or adjustments made:
Paolo Banchero
Brandon Ingram (dynamic hair update)
Kai Jones (dynamic hair update)
The following historic players have received new or updated sculpts:

Craig Ehlo (dynamic hair update)
Howard Eisley
Caldwell Jones
Harold Minor
Kenny Satterfield
GAMEPLAY
Adjusted the shooting model to reduce the frequency of made low percentage shots and missed high percentage shots
Fixed an issue with transition take foul logic that caused intentional fouls to not be called when attempted during passing animations
When player-locked to a player inbounding the ball, you will now be able to properly call a timeout.
MyCAREER/CITY
Continued improvements to performance and stability have been made to enhance the overall experience in the City.
Resolved an issue that could cause incorrect VC amounts to be awarded in Rec and Pro-Am games
The Phone and 2KTV menus can now be accessed while on Got Next spots
Fixed a rare issue that could prevent a playoff game from being started due to an active quest requirement
Squads will no longer be blocked by incoming invites when attempting to enter the elevators in the Event Center
MyTEAM
Preparations for the $250,000 MyTEAM Unlimited Tournament elimination rounds on March 4th & 5th, as well as the Finals on March 18th
The color for Diamond cards and assets has been updated to make it more visually distinct from Galaxy Opal cards.
Additional minor updates to menus and modes throughout MyTEAM
MyNBA/THE W
Continued stability fixes and improvements have been made for MyNBA, MyNBA Online, and The W.
Addressed an issue that could cause certain attributes for players in downloaded draft classes to become randomized
Team logo and color options for tattoos in The W will now be correctly applied.
NBA 2K23 is currently available on PlayStation 4, PlayStation 5, Xbox One, Xbox Series X|S, Nintendo Switch, and PC.
Thank you for reading!