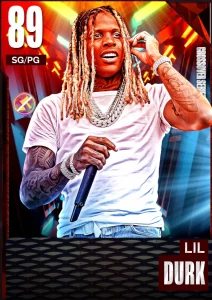 Lil Durk has been tapped as the latest rapper to be added to NBA 2K23 as a playable character.
Smurk's addition to the video game series' MyTEAM mode went live on Thursday March 9th, with 2K Sports also releasing a behind-the-scenes look at the process of how the OTF rapper earned his impressive 89 overall rating.
Fans will have to complete Lil Durk's spotlight challenge to unlock his MyTEAM player card, which is only available for a limited time.
Footage of Durk in NBA 2K23 finds him rocking a No. 3 jersey and a pair of Air Jordan 3 "Black Cement" kicks, with his jumper mimicking his real-life shooting motion.
2K Sports' Digital Marketing Director "Ronnie 2K" Singh solicited fans' opinions on who should be the next rapper to make their 2K debut, and they flooded the comments section with the likes of NBA YoungBoy, Playboi Carti, Lil Baby and more.
Lil Durk follows in the footsteps of Jack Harlow, J. Cole and most recently Lil Wayne, all of whom were also given 89 ratings. Cole was also unveiled as the cover star for the DREAMER Edition of NBA 2K23 last year.
As far as his real-life hoop skills go, Lil Durk is confident he could beat J. Cole or Drake on the hardwood.
"[Drake's] my dog, but he ain't gon' play us, though," he told TMZ last summer after seeing Drake win back-to-back titles in his SBL league. "[LeBron] knows I'm the best ever. Tell your fucking children."
"I know I can, I just told you that I'm the best ever," he confidently added. "[That's] my boy, but I'd dunk that shit on [J. Cole]."
Thank you for reading!