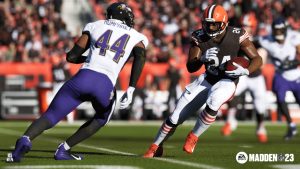 Closed beta for Madden 23 has been available for over a week, initially players only had access to Play Now and then Ultimate Team.
After a short wait, Franchise Mode has now been added in the most recent beta update, and we have details on the changes.
New features
So far, there appear to be no major changes like Madden 22 brought with Staff Management and the revamped Scouting system.
There have been some changes however, contracts did get a major upgrade, as Player Motivations have been introduced to help detail why a player may or may not decide to go to a particular team.
In the past, the negotiations were all about money, but now a variety of motivations have been added. The changes include:
Super Bowl Chase
Big Market
Historic Championships
Top The Depth Chart
Head Coach Historic Record
Mentor at Position
Highest Offer
Close To Home
Scheme Fit
Team Has Franchise QB
No Income Tax
Warm Weather State
Each has an Impact meter showing how important that individual item is to the player and how much your own team's status affect their opinion negatively or positively.
If players have key Motivations you can't meet, you will have to offer more money to try to get them to sign on.
Plenty stayed the same
That is about it for the good news with Franchise Mode, unfortunately there's little else that got changed or upgraded.
While gameplay improvements like FieldSENSE will carryover to Franchise Mode games (for next gen players only), most aspects of the mode were left untouched.
The upgraded Scouting system has new menu designs, but as far as function goes we didn't see any changes.
More then likely one of the biggest disappointments for many fans is that Relocation is completely unchanged in Madden 23, with no create a team option.
Being able to create your own team is a feature available in essentially  every major sports franchise video game, but EA remains unwilling to add one to the Madden entry.
Players who want to use a custom team will once again be forced to spend a year in the relocation process and pick from the exact same locations, team names, logos, and uniforms that were available in Madden 22.
Thank you for reading!