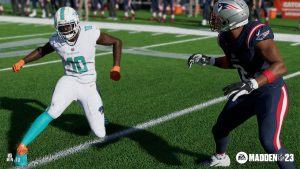 The NFL is evolving into a passing league, and it appears Madden will follow suit.
EA Sports releases a new version of Madden every year, rarely changing at its core. Madden 23 Closed Beta so far reminds us of Madden 22, Madden 21, and basically, every game in the franchise over the past 10 years or so. And while it looks and feels very similar, it appears that EA is attempting to iron out some of the major issues that have defined the series experience since the 90s.
The closed beta only offered the standard quick play mode, which means we didn't get the chance to do a deep dive. But we did get a look at the ways EA is attempting to shaking up Madden at its core.
The first thing that sticks out is that passing has become much more intuitive. Madden quarterbacks have had a limited set of arm motions, dart throws and lobs. In Madden 23, the passing mechanics appear to be completely reworked. The pace on your throws is determined by the amount of time you hold down the button, and you're given much more control over ball location.
The changes in tackling animations are also something that you notice almost immediately as well. EA has stated that Madden 23's tackling animations are more realistic and less likely to result in unrealistic situations.
Time will tell, but it looks like big changes are coming.
Thank you for reading!