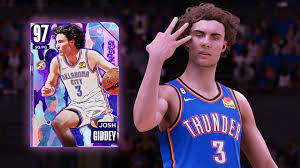 NBA 2K23 Season 7 launched May 19, and we have all the details. Read on for the complete NBA 2K23 Season 7 rewards, patch notes and new content.
The new season will feature new MyCAREER apparel rewards and a LEGO 2K Drive bundle, new Galaxy Opal and Invincible cards in MyTEAM, new storylines and rewards for The W Online, new music for 2K Beats as well as an exclusive single debut from Jay Millian, and more.
To celebrate the upcoming release of LEGO 2K Drive tomorrow, Season 7 will bring a special Level 1 LEGO 2K Drive Bundle reward, consisting of two hoodies, three t-shirts, and a basketball. The Season 7 MyCAREER reward ladder will include additional rewards such as as the Level 30 Affiliation Mascot, Level 37 NASA Race Suit, Level 39 Badge Point, and Level 40 NBA Mascot outfit. To make it easier for players to level up through the ladder, The City will be host to numerous special events during the Conference and NBA finals, with players able to earn 2XP for all games played while wearing NBA apparel during these events.
MyTEAM:
Season 7 will begin with the Level 1 Galaxy Opal Josh Giddey card as the first reward. Five other Galaxy Opal players will be available as rewards through the Season 7 ladder, as well as a new 99 overall Dark Matter player. The Level 40 reward will be an Invincible Zion Williamson card. Additional Dark Matter players will be available as mode rewards in the Vault, Triple Threat Online Ball Drops, Clutch Time Wheel, Season Ascension, and the Draft. Each NBA franchise's All-Time players are being added as a new collection during Season 7, and evolved Playoff cards based on real-life performances will be offered throughout the season.
The W Online:
The following Weekly Goal and Season Rewards are being added to The W Online during Season 7:
Weekly Goal:

Sue Bird Heroine Jersey
Storm Heroine Shorts
Slam Kicks Tee
Team Resilience Boosts
Team Extender Boosts
Kyrie 4 Low
Season Rewards:

Kelsey Mitchell Jersey
Sheryl Swoopes Tee
WNBA Ball Card
Lisa Leslie Coach Card
Mystics Logo Card
2K Breakthrough Skin
2K Beats:
Curated by Blxst and EVGLE. the Season 7 soundtrack features the following new tracks:
Blxst – Passionate ft. Roddy Ricch
Blxst – Keep Calling ft. Larry June
Jay Millian – Baby 
Babyface Ray, Blxst, Nija – Spend It
Roddy Ricch – Stop Breathing
Jordan Ward & Joony – IDC
Benny The Butcher – Trade It All
Westside Webb – Progress ft. Polyester the Saint
Action Bronson – Zambezi ft. Roc Marciano
MASN – Crush
Jay Park – MOMMAE ft. Ugly Duck
Nav – Lately
Larry June – Private Valet
NBA 2K23 Season 7 Patch Notes:
[NEW GEN] :PS5: :XBS:
GENERAL
• New WNBA uniform sponsor patches for the 2023 season have been added
• The following players have had general likeness updates or adjustments made:
• Paolo Banchero (dynamic hair update)
• Justin Holiday (dynamic hair update)
• Trendon Watford (dynamic hair update)
• Delon Wright (dynamic hair update)

MyCAREER/CITY
• Continued improvements to performance and stability have been made to enhance the overall experience in the City
• Resolved an issue in REC and Pro-Am games that could cause an errant screen wipe to occur during gameplay
• Addressed an issue where Blackout Bingo cards could have spots with no objectives
MyTEAM
• Fixed a rare hang that could occur when two player cards from the same pack receive walkout reveals
MyNBA/THE W
• Continued stability fixes and improvements have been made for MyNBA, MyNBA Online, and The W
• Fixed a logic issue preventing playoff progression from occurring when using Start Today in MyNBA.
Season 7 Start: Friday, May 19th, at 8AM PT/11AM ET/4PM BST
Thank you for reading!