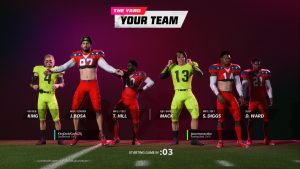 Playing against friends is just more fun. Yes, Madden has some great single player game modes like Face of the Franchise, but that doesn't compare to the thrill of beating your buddy. Whether you are playing your pal just for the satisfaction of beating them or playing for some real cash on GamerSaloon, head to head action is where it's at. Luckily, Madden23 has delivered on a bunch of different ways to do that, let's take a look at a few of them.

Play Now (Head to Head)

This is head to head Madden as you've always known it and love it. Play a buddy across the street or across the ocean. Customize the game as you want, and you are off to the races. But, and it's a huge but…you need to unlock the game mode first. You will need to reach Level 4 on the Field to get in on the action. So play challenges to get the XP you need to keep leveling up.
Superstar KO
In our opinion this is a downright fantastic game mode but some people hate it and here's why; limited playbook and no audibles to start. That is the draw for us, as it allows you to work on stopping someone who tries to run the same play.

The Yard

This is our favorite game mode. You can take your Face of the Franchise career mode and hit the high school fields for a 6 v 6 backyard style game. The action is fast, you'll need a high-octane
pass offense to succeed.

Madden Ultimate Team
What is more fun than using a hand picked team that you created? If you've built a stacked team, it's probably time to test drive the roster against some buddies.

Franchise Mode

If you have 31 friends or co-workers and can muster up the time to organize it, this is where it is at. You will need to win on the field and in the press box as you manage your roster, train, coach and ultimately compete. If you've played previous Madden Franchise modes, you might be thinking, NO THANKS, but it's clear that EA has been listening to the community. Franchise Mode now offers more efficient scouting, more realistic drafts and trades.

Have fun out there and don't forget to check out GamerSaloon.com and play the game you love for real cash.
Thank you for reading!