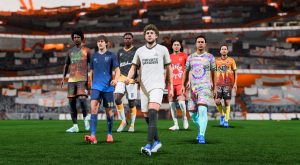 EA Sports FC 24, formerly known as FIFA, is currently plagued by a bug that some are calling the worst ever.
Players can use several skill moves in quick succession alongside a cancel that ends in the ball being stuck to a footballer's calf. That's not quite how that's supposed to work, as you can see through the player jogging into the other team's net to score.
According to EA, the bug isn't long for this world. EA took to Twitter to let everyone know that a fix is on the way.
"We've added a new issue to the EASFC Tracker that we're investigating," the developer says. "The ball can incorrectly stick to a dribbler's leg as they run in some situations."
This glitch aside, it's a solid game. A good start to the EA FC franchise.
Thank you for reading!