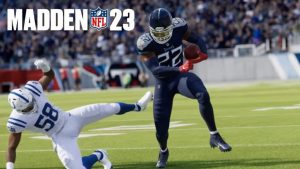 With no EA Play Live scheduled this summer, it's not clear exactly when we can expect our next look into Madden NFL 23, but based on previous years the next big event surrounding the game is probably the Madden 23 player ratings reveal.
Madden 23's August 19th release date was officially announced last week. Prior to the release date announcement the big revel was that of the 99′ Club. Since the announcement, EA launched its Closed Beta and introduced its new FieldSENSE mechanic, which will only be available on next-gen consoles.
When will EA reveal the player ratings for Madden 23?
Much like the NFL Draft, EA creates buildup for its Madden releases through a string of different events and press releases, drumming up conversation and debate. For both Madden 22 and Madden 21, EA teamed up with ESPN to host a week-long event, complete with special programming dedicated to player ratings.
Madden 22's Ratings Week took place during the week of July 25 to July 30, while Madden 21's Ratings Week ran from July 13 through July 17. Both of those titles released in late August. With Madden 23 having a similar release date of August 19, the player ratings will more then likely be revealed mid- to late-July.
We will have the full player ratings when they are released.
Thank you for reading!