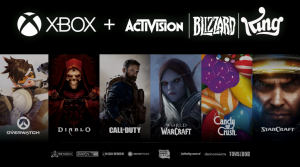 The video game industry got a huge boost during stay-at-home orders in the first year plus of the pandemic. But as things opened back up and people started resuming activities outside of their home, video game sales suffered, seemingly resulting in a run of major company acquisitions within the space.
If you believe the reports, there is more to come.
Take-Two Kicks Off Round Of Acquisitions
Take-Two Interactive Software started the run of consolidation with its acquisition of mobile games publisher Zynga. Take Two announced the $12.7 billion deal on Jan. 10 and completed the transaction on May 23.
Microsoft was next with its pending acquisition of publisher Activision Blizzard. Microsoft announced that deal, worth $68.7 billion, on Jan. 18.
On Jan. 31, Sony announced a deal to acquire game studio Bungie for $3.6 billion.
On Feb. 24, mobile gaming firm Playtika disclosed that it is evaluating its options, including a possible sale. Same with Electronic Arts and  Ubisoft, as both have been looking for buyers, according to reports.
More Acquisitions Coming
"Consolidation is definitely going to continue," according to analyst Mike Hickey.
After Zynga, Take-Two will continue to look into more acquisitions, according to Chief Executive Strauss Zelnick.
"Our story has historically been one of organic growth with very specific strategic acquisitions along the way," Zelnick said. Those deals include "the acquisitions that got us into the mobile business in the first place and acquisitions of smaller and medium-size studios that bring to us great teams and great intellectual property."
What's next for EA?
Electronics Arts is looking to make a move. EA has reportedly sought out large media companies, such as Comcast, as potential merger partners.
If that does not work out EA could decide to buy. They made arguably the most successful acquisition in the recent history of video games, purchasing Respawn in 2017 for $315 million, which led to the creation of the company's most valuable game in Apex Legends.
The sale of EA could really shake things up. More to come.
Thank you for reading!