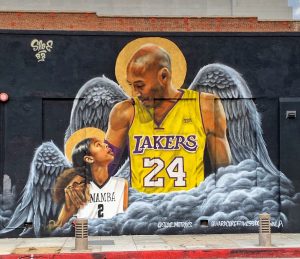 An iconic mural of the late Kobe and Gigi Bryant is saved, after the NBA 2K video game franchise negotiated with the landlord to keep it up.
Located on a building near Crypto.com Arena, the mural was painted by Louie Palsino as a tribute to Bryant and Gianna after they were killed in a helicopter crash in January 2020. It's become a popular destination for fans, but its existence was in jeopardy after the building's landlord ordered it to be taken down.
An online petition urging the landlord to preserve the mural garnered more than 90,000 signatures and also received support from Vanessa Bryant.
While appearing on ESPN's "NBA Today" on Monday, 2K Games head of lifestyle and content marketing Ronnie Singh, better known as Ronnie 2K, announced that the company had reached an agreement with the landlord to save the mural.
"For weeks and months, people have lined up in front of this beautiful mural, taking pictures. For us to be a part of saving this thing is just a celebration of basketball," Singh said. "This one means a lot to our community. It's basketball related. It's Kobe Bryant. Our cover star for NBA 2K24 is Kobe Bryant. It made sense for us to get involved.
"We felt a moral responsibility to jump in and say, 'We want to make a difference.' Not words, but actions."
Singh told reporters at a re-dedication ceremony Thursday that 2K Games made a "philanthropic donation" to the landlord to preserve the mural for one year. He said he hopes the gesture is "inspiring others to take it on," but that the company will reconsider helping further after the year is over.
Bryant was unveiled as the NBA 2K24 cover athlete in July.
Thank you for reading!