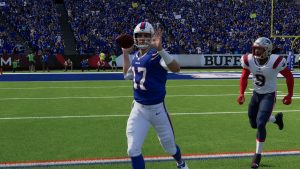 Madden 23 is finally out, here are our first impressions.
There are Noticeable Visual Improvements
Madden 23 doesn't take a huge leap in visuals when compared to Madden 22, but it does take a noticeable one.
Zone Defense Works Much Better
Being able to trust your A.I. in a coverage you called seems like a given in a football game, that has not been the case in previous iterations of Madden. The defense in Madden 23 makes more sense and in turn, the game is simply more fun.
The New Passing Mechanics Will Benefit the More Skilled Players
The biggest offensive change in Madden 23 is the new passing mechanics. You can still use classic passing, but if you can master the new mechanics it will add another layer to your game. The system is intuitive and adds depth to the experience.
Point of Contact Has Improved
You will notice more animations and more physics-based movement in the new approach EA has chosen. It's not perfect, there are still issues, however it feels more like real football than previous versions.
Franchise Mode is Significantly Improved
The biggest improvement appears to be to the franchise mode, in line with our observation when beta was released. It is clear EA made the  mode a priority this year.
Thank you for reading!