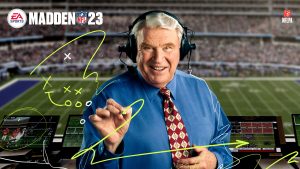 A lot of people want to know if Madden NFL 23 is going to have crossplay.
In 2023, not only are the console wars going, but the war between current and previous generation consoles is ongoing. There are six different platforms you can play Madden 23 between PC, Nintendo Switch, PlayStation 4 and 5, and Xbox One and Series X/S.
Does Madden NFL 23 have crossplay multiplayer?
Madden NFL 23 will not have cross-platform multiplayer or crossplay in any form.
The Madden NFL series has never had crossplay and EA Sports has made no zero mention of this changing with Madden NFL 23. With the game's release approaching, it's unlikely that EA Sports would have kept a change secret for this long when it would be a selling point for the game.
Madden NFL 23 crossplay is not available in any form. PlayStation, Xbox, and PC players are all segregated from one another, cross-generation play won't be included either. This means that PlayStation 4 and 5 players, as well as Xbox One and Series X/S players, will all be prevented from playing with each other.
The deluxe editions do include "dual entitlement," which gives players access to the game on two console generations. PS5 and Xbox Series X/S owners can have both versions of Madden NFL 23 installed on their consoles, allowing them to play multiplayer across both generations. This option unfortunately comes with a higher price tag and eats up your console's storage.
Thank you for reading!