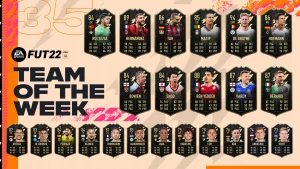 Team of the Week 35 cards are live and can be pulled in FIFA 22 Ultimate Team packs today. Kevin De Bruyne is this weeks top star, with the set including players with overall ratings ranging from 84 to 94.
The TOTW promotion revolves around releasing cards of upgraded version of players who stood out during real-life games over the past week. The cards being added today will be replaced next week, so you have a limited time to pull them from packs.
Team of the Week 35's Top Cards
The best cards are 94-rated Kevin De Bruyne from Manchester City, 89-rated Theo Hernández from Milan, 88-rated Wissam Ben Yedder from Monaco, 87-rated Jamie Vardy from Leicester City, and 87-rated Domenico Berardi from Sassuolo.
De Bruyne is the priciest card of the group, currently going for around 300,000 FUT coins.
Pulling a player you do not want is not a total loss, the TOTW cards can be used to complete squad-building challenges. Many of the SBC challenges ask for at least one TOTW card as part of the solving conditions, so make sure you check the challenges before selling off a TOTW player you don't want.
Here's the full list of all of the TOTW 35 cards added to FIFA 22 Ultimate Team:
First team
GK: 84-rated Rui Silva (Everton)
LB: 89-rated Theo Hernández (Milan)
CB: 86-rated Jonathan Tah (Bayern Leverkusen)
CB: 85-rated Joel Matip (Liverpool)
CAM: 94-rated Kevin De Bruyne (Manchester City)
RM: 86-rated Jonas Hofmann (Borussia M'gladbach)
RM: 84-rated Jarrod Bowen (West Ham)
CM: 84-rated Wataru Endo (VfB Stuttgart)
ST: 88-rated Wissam Ben Yedder (Monaco)
ST: 87-rated Jamie Vardy (Leicester City)
RW: 87-rated Domenico Berardi (Sassuolo)
Bench
GK: 82-rated Stefan Ortega (Bielefeld)
RB: 83-rated Giovanni Di Lorenzo (Napoli)
LB: 84-rated Alfonso Pedraza (Villarreal)
LM: 84-rated Sebastián Blanco (Portland Timber)
CM: 81-rated Adrien Thomasson (Strasbourg)
ST: 85-rate Georgios Giakoumakis (Celtic)
ST: 80-rated Kodjo Fo-Doh Laba (Al Ain FC)
CAM: 75-rated Rodrigo Riquelme (Mirandés)
RW: 78-rated Jonathan Levi (IFK Norrköping)
ST: 76-rated Marcel Bär (1860 München)
ST: 74-rated Karol Angielski (Radomiak Radom)
ST: 73-rated James Scott (Hibernian)
Thank you for reading!