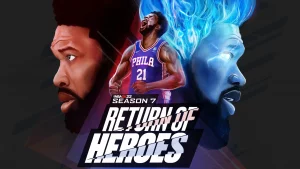 New rewards, events, and MyCAREER updates are on their way.
NBA 2K22 Season 7: Return of Heroes will drop this Friday. Season 7 is set to build off the fan-favorite version from last year, as they focus on a new era of NBA greats such as Joel Embiid. You'll also see the addition of a new TKO event to The City and the Cancha Del Mar, the event will allow you to compete for new rewards and complete quests. We have more details and the trailer below as the season will go live on May 20th.
The new MyCAREER Level 40 Reward has been confirmed, and some more Dark Matter cards are on the way. Your MyTEAM Level 1 reward is a Galaxy Opal Zion Williamson.
Season 7 will also allow you to complete the Challenger Mural's collection, which will reward you with the Invincible Dark Matter Joel Embiid for your troubles.
Return of Heroes MyTEAM Rewards
The MyTEAM rewards in NBA 2K22 Season 7 already look pretty good.
There will be a new Domination tier, which looks like it is going to have a good pay off for fans of 2K22 MyTEAM. Your reward for completing the challenge is an Invincible Tim Hardaway.
Getting to Level 40 during NBA 2K22 Season 7: Return of Heroes is something you are going to want to do. The reward is Invincible Anthony Edwards.
Confirmed Rewards for Season 7:
Season Level 40 – Invincible Anthony Edwards
Season Level 33 – Mike Conley
Season Ascension – Joe Dumars
Clutch Time 100 Wins – Fernando Martin
Clutch Time Wheel – Gilbert Arenas
Unlimited – Michael Finley
MyTEAM: Draft – Moses Malone
Triple Threat Vault – LaMarcus Aldridge
Triple Threat Online: The 100 – Jamaal Wilkes
Exchange – Sam Cassell
Token Rewards – Oscar Robertson & Antawn Jamison
Thank you for reading!