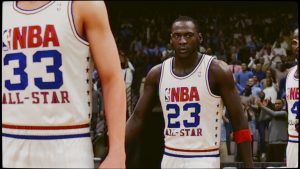 Get ready to relive the 15 greatest moments in MJ's incomparable career.
2K Sports recently announced they were bringing back the popular 'Jordan Challenge' for this years installment of NBA 2K, and dropped a pretty great trailer as part of that announcement.
The Jordan Challenge was revolutionary in sports video gaming 12 years ago and will return this year, with an amazing level of detail and presentation.
"In the past 12 years, we have an entirely new generation of NBA fans to retell these incredible stories to," said executive producer Erick Boenisch. "This generation didn't get the chance, necessarily, to see Michael play live, to see him play on TV, to see him play in person. So everything that they know about this person is from YouTube, from word of mouth, or their parents. This really is a chance for us to retell the story of Michael Jordan to a whole new generation of NBA fans.
The Jordan Challenge for NBA 2K23 will begin with one of its five new moments, the 1982 NCAA National Championship game between Jordan's North Carolina Tar Heels and the Georgetown Hoyas, starring his future and longtime rival Patrick Ewing. Tar Heel greats James Worthy and Sam Perkins will take the floor in their alma mater's uniforms. So will Ewing and Eric "Sleepy" Floyd, under the formidable glare of the Hoyas' coach, John Thompson.
"We've tried to get North Carolina for a number of years now," Boenisch said, referring to the college portion of NBA 2K's MyCareer mode. "They always had their reasons for not wanting to do it. Pitching them, we said, 'Here's our vision for the game this year, Mike's involved, Mike wants this,' and they said, 'OK, great. Sounds good. Let's do this.' They were super enthused to work with us to help be a part of telling Michael Jordan's story."
Wrapping each of the 15 moments will be interviews with teammates, opponents, broadcasters, and other luminaries.
"We brought Mike Fratello in and he just started rattling off stories," Boenisch said. "And we had done our research, we prepped the scripts, but we really hadn't heard this stuff before. This is new. He added a vibe to The Jordan Challenge that I just was not expecting. Just incredible. He really brought the energy to the broadcast, and you will feel that when you play the game."
"It was a labor of love," Wang said. "We have a lot of old heads on our team, a lot of our team, a lot of people who got into this industry because of Michael Jordan. So, being able to do it was awesome fun for us, too."
The Jordan Challenge will be available in all editions of NBA 2K23.
Thank you for reading!