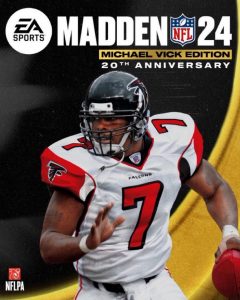 On Aug. 11, 2003, Madden NFL 2004 was released, and with it the most dominant player in the modern history of sports video games was born.
Atlanta Falcons quarterback Michael Vick had a speed rating of 95 in the game following a season where he rushed for a league-leading 6.9 yards per carry. The result was a virtually unstoppable version of Vick whose legend quickly outpaced the quarterback's on-field talents.
Fast forward 20 years, and Madden is paying tribute as Vick was unveiled Wednesday afternoon as the cover athlete for Season 3 of Madden NFL 2024, which was released on all platforms Wednesday.
The cover depicts the same photo of Vick with Atlanta that was used in Madden 2004. Meeting certain parameters in the game can unlock a special version of Vick, "'04 Vick," that resembles his classic iteration.
Since the Madden 2004 release, Vick's story has taken several twists and turns. He spent more than a year in federal prison after pleading guilty to involvement in a dog fighting ring, missing two seasons in his prime. He later played with the Eagles, Jets and Steelers, reaching the Pro Bowl with Philadelphia in 2010.
Thank you for reading!