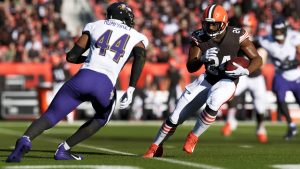 The final roster update of the season for Madden NFL 23 arrived today. Inexplicably Super Bowl LVII MVP Patrick Mahomes is not a 99 overall and will not be joining teammate Travis Kelce in the 99 Club. After limping around on a bum ankle for a few weeks, EA did raise his toughness to a 99. One would assume Mahomes will be an overall 99 when the ratings drop for Madden NFL 24.
Jalen Hurts went up to an overall 87, the same rating as Dak Prescott who went down a point. Aaron Rodgers also dropped a point to an overall 86. Other than Patrick Peterson going up a point to an 85 and James Bradberry IV dropping a point to an overall 84, there wasn't a lot of movement.
Players can now start a new Franchise beginning at the Super Bowl.
Thank you for reading!