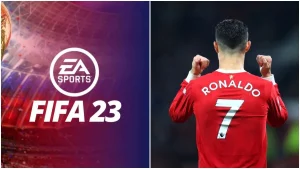 FIFA 23 will be released later this year, but we still don't know which player will be the FIFA 23 cover star.
Kylian Mbappe has been the guy for the FIFA franchise for the past two years, and the expectation is that he holds that title again for FIFA 23.
EA Sports has confirmed partnerships with UEFA, Premier League, Bundesliga, Serie A and La Liga following the decision to end their partnership with FIFA after almost 30 years. EA however did not announce an agreement of continued partnership with Ligue 1 after FIFA 23, which could see Mbappe be replaced as the cover star.
So if it's not Mbappe on the cover, then who?
PSG, Liverpool, Man City, Milan, Inter and Real Madrid all have exclusive deals with EA so their players are most likely to feature on the cover. With that in mind EA could tab someone like Real Madrid's Vinicius Junior, Manchester City's Phil Foden or Liverpool's Trent Alexander-Arnold.
We'll have all the details as soon as the FIFA 23 cover athlete is announced. Who do you want to see on the cover?
Thank you for reading!