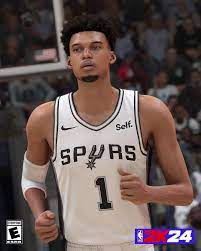 Nikola Jokić remains the highest-rated player in NBA 2K24, but two other superstars are on approach.
Joel Embiid and Stephen Curry each received one-point ratings bumps Thursday, putting them at 97 overall. Jokić still holds a one-point advantage with a 98 overall rating.
Victor Wembanyama's impressive first couple weeks of the 2023-24 season also resulted in a two-point bump for the San Antonio Spurs rookie, putting him at 86 overall.
Here is a look at some other notable names to receive an adjustment:
Stephen Curry: 97 OVR (+1)
Joel Embiid: 97 OVR (+1)
Luka Dončić: 96 OVR (+1)
Jimmy Butler: 94 OVR (-1)
Damian Lillard: 93 OVR (-1)
Donovan Mitchell: 93 OVR (+1)
Kawhi Leonard: 92 OVR (-2)
Tyrese Haliburton: 90 OVR (+2)
Anthony Edwards: 90 OVR (+2)
Zion Williamson: 89 OVR (-1)
Kyrie Irving: 89 OVR (-1)
Trae Young: 88 OVR (-1)
Tyrese Maxey: 87 OVR (+2)
Victor Wembanyama: 86 OVR (+2)
Domantas Sabonis: 86 OVR (-1)
Scottie Barnes: 86 OVR (+2)
The first ratings adjustment also saw a major boost to Brooklyn Nets guard Cam Thomas (82), Oklahoma City Thunder forward Chet Holmgren (82) and Detroit Pistons rookie Ausar Thompson (82), who each received six-point adjustments. While Jalen Johnson (79), Jalen Duren (83) and Shaedon Sharpe (82) received four-point bumps.
You can view all of the player rating updates here.
Thank you for reading!