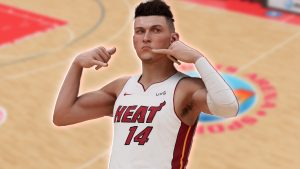 It's almost time to jump back onto the virtual hardwood, as the next edition of the NBA 2K video game series is coming soon. And there are some big changes to this year's version that should add to the user experience.
NBA 2K24 is set to release Sept. 8, with both PlayStation 5 and Xbox Series X versions supporting cross-platform play.
The most notable change to this year's game is the new ProPLAY technology. According to 2K Sports, the system is "a groundbreaking new technology that directly translates NBA footage into NBA 2K24 gameplay."
In the past, players' actions in the game had been created via motion capture. The real-life NBA stars worked with 2K to replicate the actions they used on the court over the course of a season.
Now, 2K can take movement from actual NBA games and incorporate it into the game. Providing players with the most life-like gameplay experience yet.
The following movements will all be upgraded via the ProPLAY technology: jumpshots, dunks, layups, dribble moves, pass animations and signature movements. Even inbound passes and other small details will appear more realistic as well.
In NBA2K23, MyNBA introduced various eras in which users could jump into for the franchise mode. A new era will appear in NBA 2K24: The LeBron Era. It will take users back into the early 2010s, when LeBron James teamed up with Dwyane Wade and Chris Bosh as they eyed bringing multiple championships to the Miami Heat.
For users looking to play something else fresh, there will be a new challenge mode in NBA 2K24: Mamba Moments.
Those who played NBA 2K23 will recall the Jordan Challenge, which allowed users to play and recreate the most memorable moments of Michael Jordan's legendary career. It provided a great history lesson in the process.
Mamba Moments will be the same type of mode, but it will feature the greatest career achievements of the late Kobe Bryant, who is on the cover of NBA2K24. So this will be a must-play experience for fans of the "Black Mamba."
All of the core modes and features are returning, and the play should only be better with the new technology being brought to the table.
Thank you for reading!