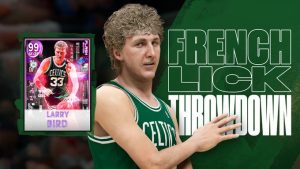 NBA 2K22 released its new series "Glitched", featuring some of NBA's greats with boosted stats.
2K Games is taking full advantage of the real life playoff push with a bunch of new content for NBA 2K22 every week. This week's promotion is bringing a new wave of awesome players.
The new series offers something unique to some of the greatest players to play the game. Each card in the series will have a stat boosted that is not the player's strong suit, highlighting the "glitched" theme of the release. The newly released glitched cards bring a whole new element to players MyTeam squads.
Four players in total have been announced for the series, all in 99-overall Dark Matter form. The Glitched Ben Simmons and Yao Ming cards can shoot 3's with the likes of Stephen Curry. Minnesota Timberwolves D'Angelo Russell's unit makes his defensive shortcomings a strength, boosting his defensive ability to match the offense he provides. Larry Bird, one of the greatest players in NBA history, couldn't dunk. That's a thing of the past in NBA 2K22 MyTeam, as his Glitched card can slam it down like Dr. J.
The promotion runs through May 5th.
Thank you for reading!