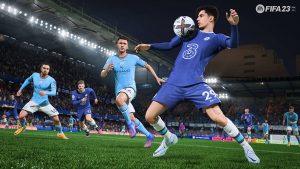 EA has confirmed it's sticking with loot boxes for FIFA 23 Ultimate Team.
EA echoed many of its recent comments on Ultimate Team's card packs, which have come under fire from children's groups and researchers in recent years for their links to gambling, and from players for enabling pay-to-win in competitive modes.
"We wholeheartedly believe that Ultimate Team and FUT Packs, which have been part of the game for more than a decade, are a part of FIFA that players love – fans love that the game reflects the real-world excitement and strategy of building and managing a squad. Giving players the choice to spend if they want to is fair," EA's statement reads.
Last month, the UK government stopped short of taking action on loot boxes, despite finding that players who buy loot boxes are "more likely to experience gambling, mental health, financial and problem gaming-related harms".
Instead, the government said it does not consider loot boxes to be the same as gambling, and as a result will not make changes to the Gambling Act.
While the government called for stronger protections from across the entire industry and insisted it "will not hesitate to consider legislation if companies do not bring in sufficient measures to keep players safe", its decision on loot boxes contrasts that of a number of European countries that have brought loot boxes under gambling laws.
For the uninitiated Ultimate Team, which drives hundreds of millions of dollars in revenue for EA each year(doesn't take a lot of imagination to know why EA will be sticking with loot boxes for FIFA 23 Ultimate Team), revolves around the idea of building a squad of players, which you then use to play in matches, both offline and online.
There are a number of ways you can obtain players in the game, but one of the main methods is through packs of virtual cards. These card packs contain a random assortment of items, including players of varying potency you then use out on the pitch. Generally, the better the player, the lower your chance of obtaining them from a pack. Although they're not described as such in-game, Ultimate Team's card packs are loot boxes.
You can buy the card packs with either a virtual currency called FUT Coins, which is earned mostly through gameplay, or with a virtual currency called FIFA Points, which is bought with real-world money.
Fifa 23 officially drops on September 30th.
Thank you for reading!