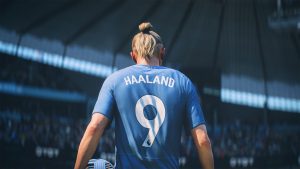 Compared to the FIFA 23 offering, the EA Sports FC 24 Ultimate Team changes will be noticeable. There are some notable differences and new features.
The latest EA Sports FC deep dive focuses on Ultimate Team, the mode where a majority of us spend our time.
Here's everything you need to know about what's changing in EA Sports FC 24 Ultimate Team.
What is changing in EA Sports FC 24 Ultimate Team?

EA is doing everything it can to ensure that the EA Sports FC 24 Ultimate Team will be different and upgraded compared to what's come before it.
A lot of changes have been made, not least the introduction of women's football players to the online mode.
The main headline to be taken from all the changes is that women's football is now in Ultimate Team. In a move that will please many, you can mix and match men and women players together in the same team.
If you want Haaland and Kerr up-front together to form the world's most lethal strike partnership – you can do precisely that.
Chemistry is largely untouched with the introduction of women's football. Sam Kerr, for example, will have strong bonds with other players from her Chelsea and Australia teams.
A man and woman player from the same real-world team, let's say Lauren James and Reece James from Chelsea, for example, will have a strong chemistry, too.
The next major headline is Ultimate Team Evolution's.
Ultimate Team Evolution's allow you to level up your players. Each player card in your club can be upgraded by completing objectives. You'll see a clear path to help improve individual player skills, add to PlayStyles, overall ratings, and how the card looks.
The new gameplay feature found in other modes, PlayStyles are also going to be a part of Ultimate Team. PlayStyles changes how your player actually behaves, with skills and approaches not just based on stats as before.
It's supposed to bring the players in the game closer to their real-life counterparts, effectively mimicking the playing styles you see from the stands or on your TV screen.
Other changes include Icon cards, which will now add +1 chemistry to your squad regardless of country or club association, making it easier to add legends of the game to your Ultimate Team.
Finally, alterations have been made based on community feedback. This includes the ability to change player positions without the need for a consumable, and the promise of easier-to-manage menu navigation.
You have a chance to try Ultimate Team early thanks to the ongoing closed beta (which comes to an end on 31 August).
To read up more on all of the EA Sports FC 24 Ultimate Team changes, check out the official site for more information.
Thank you for reading!