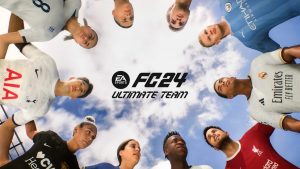 There are a number of things you can do to help improve your team in EA FC 24 do not require you spending money.
Here's a look at a few options to help your team grow:
Get on Your Grind
Some rewards in the Ultimate Team mode on FC 24 do not offer much value, while others are worth the hassle.
To get the packs that have the possibility of resulting in you acquiring good players, you need to play the Squad Battles game mode on beginner difficulty and rack up "video game" scorelines in order to hit different milestones.
Play against the computer on beginner and slowly rack up coins.
You will win games 33-0 and have to repeat that process until you have cleared all the relevant milestones. For example, you get a valuable pack as a reward for scoring 100 goals in any game mode in FUT, but it may take you three or four games to reach that benchmark.
It is boring and takes some time, but in the end, if you achieve certain milestones, it pays off.
The players you get in the packs are untradeable but when you are starting out, that doesn't matter too much. Acquiring as many highly rated players as you can, even if they cannot be sold to generate more FUT coins, is valuable as they can help you win games or can be used in various Squad Building Challenges.
Not every milestone will give you a useful reward. For example, after scoring 500 goals, you only get a pitch trophy, but after scoring 100 goals, you get an FUT pack. With that in mind, here is a list of the milestones to hit and the rewards each milestone brings.
| | |
| --- | --- |
| 100 goals | Rare Mega Pack |
| 250 goals | Jumbo Rare Players Pack |
| 75 finesse goals | Rare Mega Pack |
| 50 power shots | Mega Pack |
| 10 chip shots | Two Rare Gold Players Pack |
| 50 volleys | Premium Gold Players Pack |
| 25 assists | Gold Pack |
| 50 assists | Two Rare Gold Players Pack |
| 150 assists | Premium Gold Players Pack |
| 300 assists | Rare Mega Pack |
| 400 assists | Jumbo Rare Players Pack |
Squad Battles
When you are starting out on FUT, it is better to play against the computer while you build your squad. Feel free to play against other players online if you wish, but the reality is, unless you are an excellent player, your opponents will win more times than not simply because their squad is far superior to yours.
To get your team up and running, utilize the Squad Battles feature, a game mode where you only play against the computer, to achieve weekly rewards.
In Squad Battles, you get rewards based on how many points you have earned after playing a maximum of 32 games within a seven-day period. If you play 32 games on professional or world-class difficulty and win the majority of those, you should get solid rewards.
The rewards typically involve a combination of FUT packs, coins and XP points. For example, if you achieve the 'Elite 1' rank, you will get 22,000 coins, 700 XP and two Rare Players Packs.
Use Evolution's
It is now possible to improve a player's overall rating in FUT, but unlike Career Mode, those improvements are incremental and you cannot always choose which players you want to improve.
To fulfil the criteria you need to improve a player's overall rating, you usually just need to win a few games on Squad Battles.
There are also some players who can stand to benefit massively from Evolution's. Manchester United midfielder Kobbie Mainoo, for example, is one of the most popular cards in EAFC 24 despite only having an overall rating of 62.
The reason Mainoo is so popular is because he can benefit from the Golden Glow Up Evolution. In short, if you win a certain number of games with him in your team in Squad Battles, his overall rating can jump from 62 to 82.
Make smart signings
If you have the Ultimate Edition of FC 24, you will be able to begin your FUT journey with an advantage, as you will get 4600 FC points, which can be used to buy packs. After you buy those packs, you can then sell a majority of the items you receive to generate coins to buy better players.
If you are starting from scratch, you will likely have to use the team you start with and grind out a few games to get coins. You often get at least 400 coins for winning a match on FUT, which is why we would suggest playing Squad Battles before tackling other game modes in FUT like Rivals or Champions.
Squad Building Challenges
When you open FUT packs, most of the time, the players you get are of no use to your actual team, but that doesn't mean they don't have value.
Use SBCs to trade in deadwood you have in your club for rare players or FUT packs. It can sometimes be worth buying specific players to complete an SBC if you do not already own a player to match the criteria for a given challenge.
The SBCs that provide you a rare player in return are harder to complete at the start. For example, to get the Player of the Month version of James Maddison (86 overall), you have to exchange two squads: one featuring players based in England with a minimum overall team rating of 83, and exchange a squad featuring players from the Premier League with a minimum overall team rating of 85.
Below is a list of the SBCs that are relatively easy to complete at the start of your FUT journey in FC 24 and yield good results.
| | |
| --- | --- |
| Foundations I | Two Players Pack |
| Foundations II | Premium Loan Player Reward Pack |
| Foundations III | Two Rare Gold Players Pack |
| Foundations IV | Two Rare Gold Players Pack |
| Gold Upgrade | Two Rare Gold Players Pack |
Good Luck!
Thank you for reading!