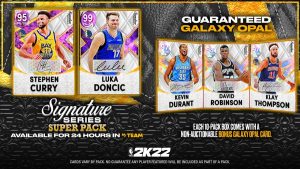 The latest round of 2k Games content is out. For a limited time fans can purchase the Signature Series Super Pack. The packs include three Galaxy Opal cards and two Dark Matter items. The series pack is available for 24 hours only.
The new Galaxy Opal cards include Kevin Durant, David Robinson, and Klay Thompson complete with their signature featured underneath the player image. Thompson and Durant are a 97-overall, while Robinson is a 98-overall. If you want to guarantee yourself one of the three items, you can buy the 10-pack Stadium Series set, which guarantees at least one of the three cards. If you're lucky you can also pull Luka Doncic or Stephen Curry in their Dark Matter form.
2K Games also released a new set of challenges in Season 5 of NBA 2k22 MyTeam. The Season 5, Week 5 challenge allows players to build towards collecting an 86-overall Thanasis Antetokounmpo. The available challenge is here for a limited time, and players will have until March 27 to collect Antetokounmpo.
Thank you for reading!