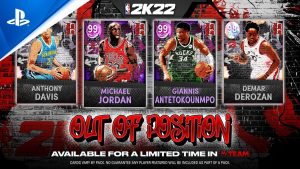 The new set includes players with two set positions for players to choose from.
The series features 12 player cards capable of playing two positions, one natural and another they do not usually play. The new pack is available as part of the MyTeam Pack set.
The first three players were revealed on Twitter; DeMar DeRozan as a point guard/power forward, Giannis Antetokounmpo as a shooting guard/small forward, and Michael Jordan as a point guard/shooting guard. The Jordan and Antetokounmpo are Dark Matter cards, the DeRozan is a Galaxy Opal card.
Anthony Davis joins DeRozan as the two Galaxy Opal players, Ben Wallace and Jimmy Butler are Pink Diamonds, Evan Mobley and Penny Hardaway are Diamonds, Ben Simmons and Toni Kukoc as Amethysts, and lastly Earl Boykins and Arvydas Sabonis. As of now you can only buy individual packs. There is no news yet on whether NBA 2K22 will add a 10-pack box set, which usually includes a guaranteed card from the series.
Thank you for reading!