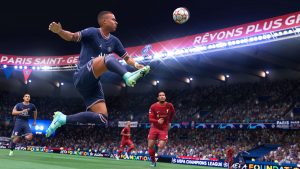 FIFA 22 cross-play is almost ready to be rolled out, but only for certain game modes.
EA has announced that cross-play functionality will be tested in "the near future", opening up to option for players to compete against opponents on other systems.
The initial cross-play test will only be available for the PS5, Xbox Series X/S and Stadia versions of the game, Xbox One, PS4 and PC players will be left out for now. It will also only be added to Online Seasons and Online Friendlies modes.
According to a Q&A on FIFA 22's official website, FIFA 22 's FUT mode will not be getting cross-play, and the earliest it will arrive will be for FIFA 23.
"We limited the test to these two modes with the aim of reducing the chance for introducing new issues into the game," FIFA 22's official website reads.
"The game data and feedback that we get from these two modes will help inform how Cross-play could further be implemented in future titles."
The post says that cross-play in Online Seasons will work the same way it has all year.
"As usual, the matchmaking will search for an appropriate opponent, and they may or may not end up being on a different platform than you."
An earlier report claimed that FIFA 23 would include cross-play for the first time. The new announcement means it will be coming earlier than that.
Thank you for reading!