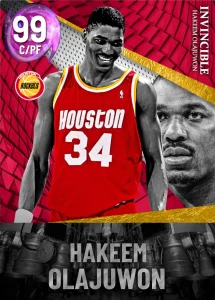 The latest add to the NBA 2K22 MyTEAM Market is the Swish 4 Packs.
Swish 4 Pack Details
The good news is the price is not terribly steep. For the Equal Chance Packs, it will cost you 15K VC or 50K MT. With a purchase you are guaranteed to get one of the cards below:
Invincible Hakeem Olajuwon
Hero Hakeem Olajuwon
DM Danny Granger
DM Larry Johnson
GO Shaun Livingston
PD Andrew Bogut
Invincible Hakeem Olajuwon
The most sought-after card in the set is the Invincible Hakeem Olajuwon.
Here are the ratings for the Invincible Hakeem Olajuwon:
Inside Scoring – A+
Mid-Range Scoring – A+
3PT Scoring – A+
Playmaking – A+
Perimeter Defense – A+
Post Defense – A+
Rebounding – A+
Athleticism – A+
Basketball IQ – A+
Potential – A+
If you can't pull it from a pack it will cost you about 700,000 MT coins.
Swish 4 Locker Code
Don't have the MT coins or VC to buy a pack? Here is another option.
Enter the code: 'SWISH-4-CODE-BOJAN-OR-MYLES' for a chance at a SWISH 4 Pack, 10 Tokens, Diamond Shoe Pack, Dark Matter Myles Turner, or Galaxy Opal Bojan Bogdanovic. The offer expires June 21, 2022.
Thank you for reading!